Last weekend it was finally (!!) time once again for the Scooter Weekend to reopen and resume the time-honoured tradition of scooter racing. This is the first time that the event was hosted on the grounds of Bitburg Air Base, and we were all amazed at the sheer size of the area. After initial worries about whether the grounds could be filled sufficiently, it became clear shortly after the gates were opened that the area would be filled completely. It started shortly after 10 o'clock, with many vehicles with trailers streaming onto the grounds and spreading out along the huge paddock area. Everyone quickly set up camp, unloaded their scooters and went about fine-tuning their engines. And then they dedicated themselves to their common passion, scooter tuning, and they had a blast doing it!.
Many people rushed straight to the circuit track – a generously marked out area that offered not only two long straights, but also turns and chicanes. Tuning fans and race riders had a lot of fun on the track and on both days provided an unmistakable soundscape, some would call it noisescape, and several exciting duels.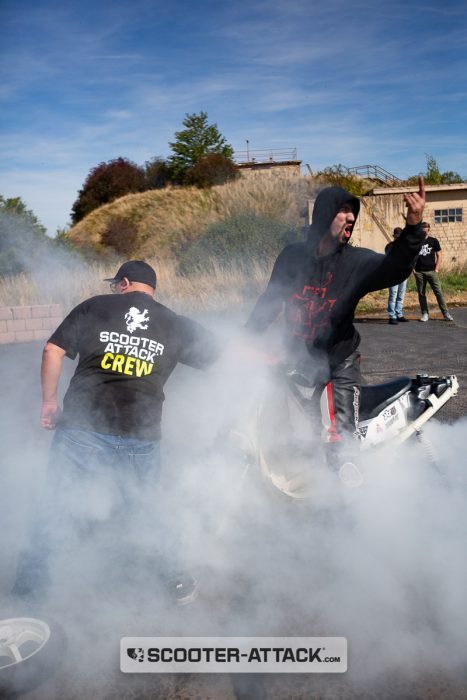 Speaking of duels: The DSSC (German Scooter Drag Racing Committee) finale was held at one end of the area. And things were heating up there. The riders were happy about the really good grip on the tarmac, which led to some amazing times. There were lots of outstanding results, with team "Mission Drag Race" doing a phenomenal time on their MXS two-cylinder engine – only 5.19 seconds. This is a definite record and the fastest time ever measured. Awesome!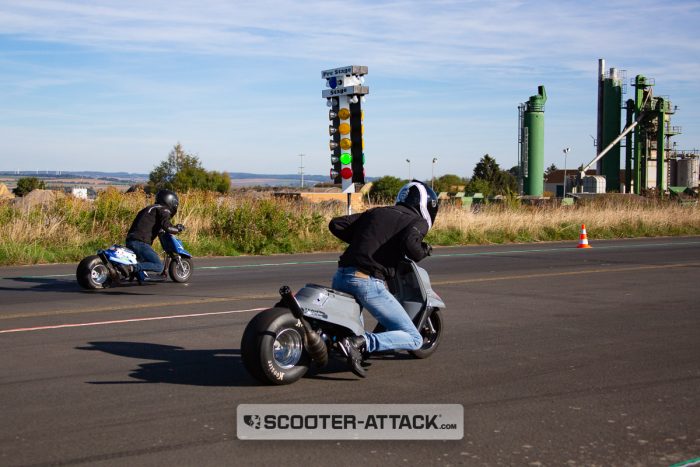 While the race track was primarily used to see how fast you can go, many scooter tuners spent time at the test bench, either to measure the horsepower of their own engines or to simply see what other people's vehicles were capable of. There were all types of set-up: Malossi, Polini or Stage6, some of them delivered an output of about 30 hp, some maxi engines even went beyond that mark!
But this was of course that was not all the weekend had in stock. In addition to the information booth, there was also a Stage6 stand where current projects such as the prototypes of the new R/T 70 and R/T 100 cylinders were presented.
Another indispensable element of Scooter Weekend is the famous custom show. Anyone interested had the chance to see some very out-of-the-ordinary custom bikes. There was something for every taste, from extreme drag bikes with 2 or even 3 cylinders to lovingly redesigned custom mopeds.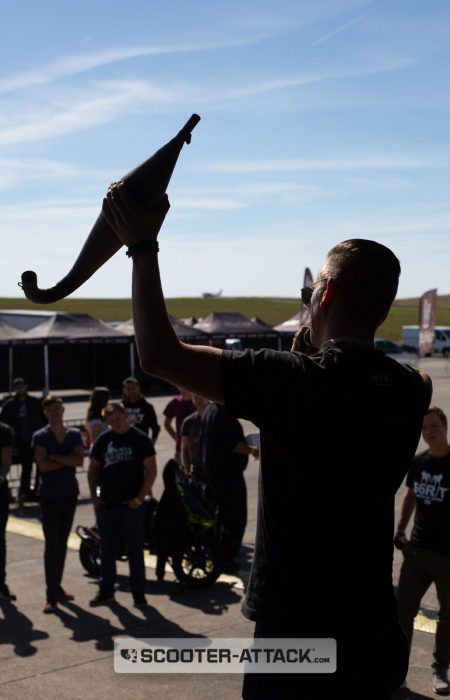 As a matter of course, there were also plenty of opportunities to buy tuning parts on site. In addition to the regular sales stand, auctions were held on both days where visitors had the opportunity to go bargain-hunting.
Last but not least community stalwart Mr Hood provided entertainment with various games with the chance to win tuning parts. Prizes could be won at the wheelie and burnout contests as well, the competitors gave it their all to win prizes like a Stage6 R/T 70 cylinder.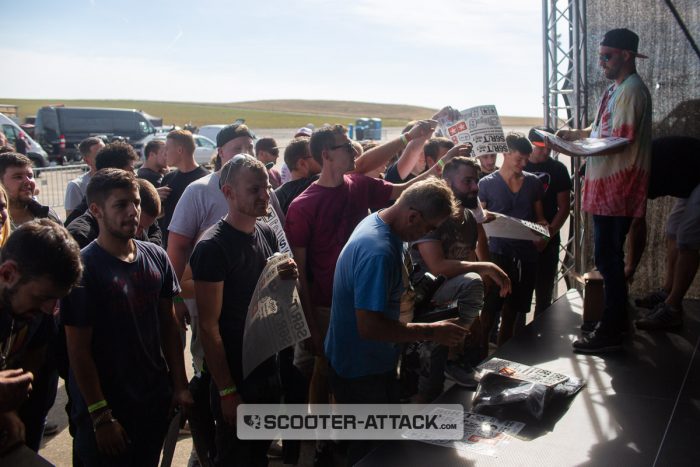 In conclusion we can say that it was a successful and fun event and we hope to see you again next year at Scooter Weekend 2019!