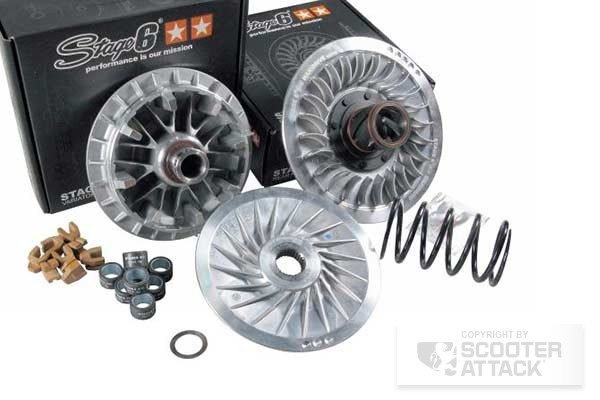 Stage6 MAXIDRIVE performance variators are part of a new product range catering to the increasingly popular maxi scooter market with new versions added regularly.
The MAXIDRIVE variators for Yamaha T-Max 530cc models represent the latest addition to the product line.
Stage6 once again live up to their standards and provide high-quality components for maximum performance at an affordable price.
Product features such as a self-lubricating sintered variator sleeve, a CNC-machined running surface and extra hard-wearing roller weights are at the cutting edge of CVT technology.
The improvements lead to better power transmission from engine to wheel, smoother rev development and minimized noise levels. Acceleration and top speed can be increased by adjusting roller weights. 
In comparative tests with products from other leading manufacturers, the Stage6 MAXIDRIVE performed better in all areas and clearly places itself in the top league, and at a very affordable price.