Kick-off to the EST Championship in Templin 2018
Burning asphalt, exciting duels and new lap records are the cornerstones of this year's kickoff races. The first EST run on April 21 & 22, 2018 was eagerly expected by racing fans. After the long winter break that we felt was twice as long as ususal, the racing conditions for the first race were better than hoped for. Most riders assume that weather in Templin means rain, hail, storm and sub-zero temperatures. But yay, this time everything was different. The track surface was starting to run hot when the training started on Saturday morning. Many new faces showed up, hello and welcome! More than 30 pilots registered for Class 1 Rookies by Scooter-Attack. Class 2 SuperSport turned out to be the most popular class in 2017 and again attracted many pilots this year. But the real deal could be witnessed in Class 3 Expert by Scooter Attack. At the final runs in Jüteborg 2017, former champion Marc Harder had already announced his plans for revenge against current champion Andreas Lukas. And another pilot moved into the spotlight: Patrick Borowski. After a creative break, team boss H. Keller wanted Borowski to shake up the duel between the two opponents. And he succeeded right from the evry start. Borowski raced past the entire field with an incredible top time of 0:53.918. Lukas was the only one who got close, followed by Harder and Pohl. Current SuperSport champion F. Berktold got really unlucky – he had promoted to the Experts Class to compete with the best, but he had an unfortunate crash during free practice and had to be taken care of by the emergency paramedics. It turned out he only had some bruises, but could only watch the next two qualifying runs.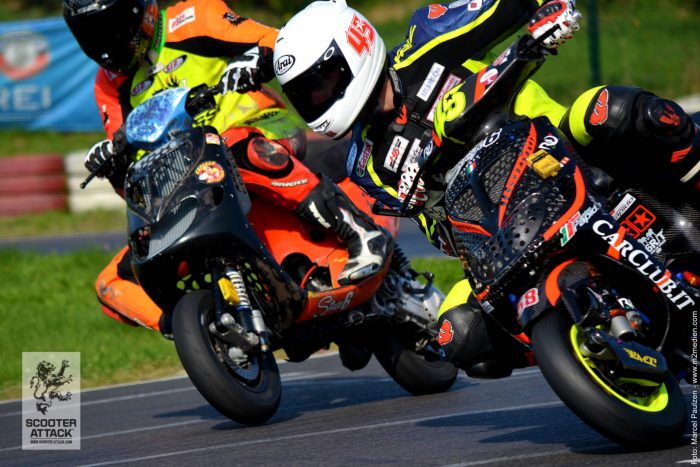 Qualifying results by class:
Class 1 Rookies by Scooter-Attack: 1. N. Heckel; 2. D. D`Alessandro; 3. L. de Wit
Class 2 SuperSport: 1. M. Schröder; 2. S. Sperling; 3. D. Kovac
Class 3 Expert by Scooter-Attack: 1. P. Borowski; 2. A. Lukas; 3. M. Harder
Class 4 Supramatic: 1. H. Zehe; 2. D. Lövenich, 3. J. Gronow
Class 7 PitBike: 1. Tim Johnsson; 2. I. Arnaut; 3. J. Schack
Just like every year, the 3-hour long-distance race started in the afternoon.
In the afternoon it was time for the traditional 3h-long distance race. Team 69 started out on pole followed by Streetlights and S. Durchner. Team B2 Plastic registered at short notice and started one lap behind. It turned out to be a good move for B2 Plastic. The team took the lead early on and did not give it back during the entire race. Lap by lap they extended their lead. Team 69 on position 2 could not keep up. Streetlights was unlucky and had to give up in lap 119 due to a technical defect. Team HK3 took 3rd place.
Final results for long-distance: 1. B2 Plastic; 2. Team 69; 3. Team HK3.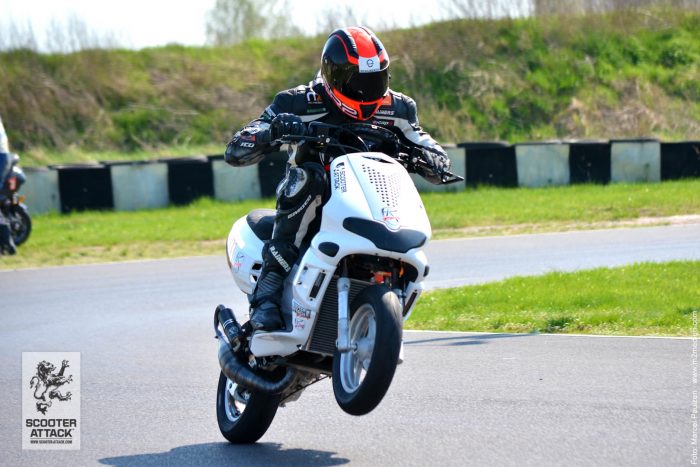 Sunday:
Class 1 – Rookies:
N. Heckel, who had the best qualifying time, was not part of the grid for the first race. He struggled with technical problems and had to work on his bike instead of riding it in the first race. This cleared the way for D`Alessandro on position 2, and he was took the lead until lap 3. His speed looked good until the first turn. Start-Finish. He crashed and had to park his scooter in the pits. This allowed de Wit to take first place. The youngest pilot came in second place: D. Schnelle. Encouraged by the whole pit lane, the up-and-coming talent saw his chance and went full throttle so C. Schmitt on position 3 did not stand a chance to catch up with him. They were followed by Preis and Hering.
The second race was completely different. It was dominated by T. Henn, who started out on position 12 and then raced to the top through the entire field. After a technical defect, D`Alessandro was not fast enough to keep up, and Heckel and Schmitt, who fought strong duels, could not stop Henn`s first victory. Heckel lost some power in the 2nd part of the race and fell back to 7th place. In the end, Henn won, ahead of Schmitt, followed by Durchner. Price and de Wit followed on positions 4 and 5.
Ranking 1st Race Templin of Class 1 Rookies by Scooter-Attack
Carsten Schmitt 36 pts.
Lorenz de Wit 36 pts.
Torsten Henn 34 pts.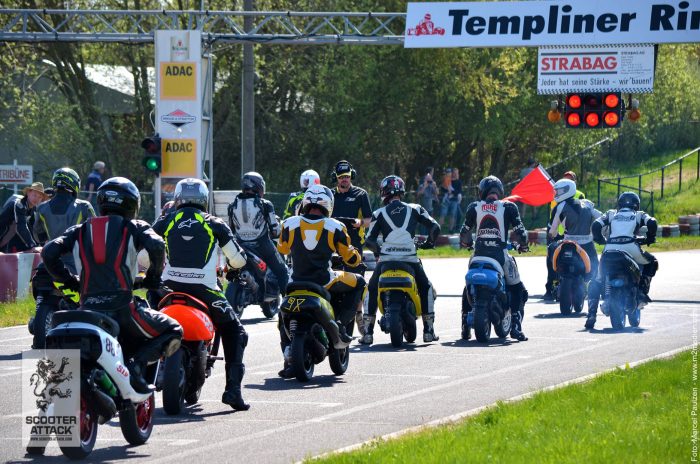 Class 2: SuperSport:
Crazy races in Class 2. Schröder on pole had a good start. His challenger Sperling crashed into the tire stack in round 2 and took a long time to get his scooter back on the track. The guest entrant Kovac profited from this and began to put pressure on Schröder who was able to keep up, though, and both competed round after round. Just when things got really exciting at the top, S. Loibl had a really bad crash in lap 6; the race was interrupted because he didn't get up any more. After medical treatment, the race was continued with a 25-minute delay. Kovac raced to 1st place, Schröder gave his best to keep up but could not really do much. As the race progressed, Schröder dropped back and finally had to admit defeat to Falkowski and Hasemann. Freimüller ended up on position 5.
In the second race Sperling on pole had to go to the pits early due to technical problems. Schröder on 2 had to give way to the faster P. Hasemann. Kovac overtook Schröder at the beginning of the second race as well. Before it could however turn into a triple-header, P. Hasemann dropped out so Kovac from Slovakia had his chance and used it. Falkowski gave a strong performance in the second race. At the beginning he dropped back to 8th place, made his way up to second place, which was also helped by drop-outs and problems at the top of the field, and in the end secure second place of the 1st run after Kovac and ahead of Schröder. 4th and 5th place went to Kostrzewa and Apostle.
Rankings 1st Race Templin of Class 2 SuperSport
Denis Kovac 50 pts.
Chris Falkowski 40 pts.
Mirko Schröder 29 pts.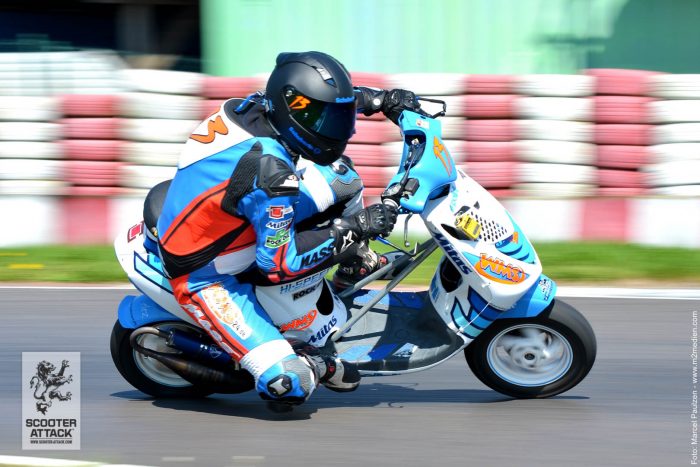 Class 4: Supramatic:
The pilots in Class 4 started together with the SuperSport for the first time. This worked out just fine, so it was decided to continue this set-up in the future. In both races, Zehe won ahead of D. Lövenich. Third place went to Y. Gronov.
Ranking 1st Race Templin of Class 4 Supramatic:
Henry Zehe 50 pts.
Daniel Lövenich 40 pts.
Jan Gronow 32 pts.
Class 7: PitBike:
The Pitbike Races had guest entrant T. Johansen starting from pole. Last year's champion I. Arnaut on position 2 could not keep up with the pace set by Johansen and ended up 5 seconds behind. Joe Schack's performance came as quite a surprise. He finished 3rd, with a gap of more than half a lap, he was no serious competition for the leading two pilots.
Ranking 1st Race Templin of Class 7: PitBike
Tim Johansen 50 pts.
Ismail Arnaut 40 pts.
Joe Schack 32 pts.
Class 3: Expert by Scooter-Attack:
The first race was eagerly awaited by fans. Borowski, Harder, Lukas and Pohl competed for the podium. Danish championship riders Simonsen and Svendsen also wanted to make their presence known as well. The race turned out to be thrilling as hell. Borowski had an amazing head start, closely followed by Lukas. He seemed to be the only one who could at least partially keep up with the crazy pace set by Borowski. Behind them Harder and Pohl tried to catch up. In round 3, however, Lukas overdid it and crashed. He shook off the dust and started chasing the top riders from position six. At the top of the field it started to look a bit boring. then Borowski overdidi it, too, and crashed in round 5 to consequently end up in position 5. This cleared the way for Harder. He had to gain time to defend his first place against his pursuers. Lukas, who in the meantime had successfully fought his way up to second place again, threatened to attack again. But all of a sudden he crashed in lap 10 and missed his chance to podium. Pohl profited from his accident and managed to get to third place. But Borowski just did not give up. After his crash, he ploughed through the field like a madman. Lap after lap he overtook rider after rider with a clear goal on his mind – to get to Harder on the top. And he finally made it in round 13. Harder could not do anything to change the situation and despite having shown a really good performance had to settle for second place. Pohl finished 3rd, followed by Svendsen and Simonsen.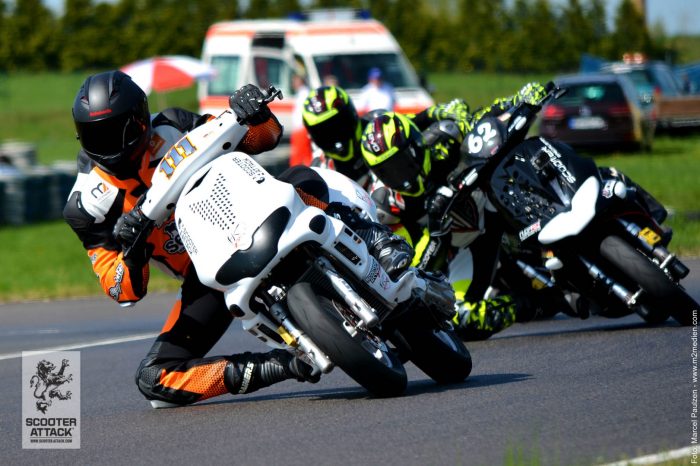 In the second race positions were much clearer right from the start. Borowski dashed away in lonely-at-the-top style. Lukas was out of the championship fight after the third round and Harder had to concede victory to Borowski and finished second with a gap of 5 seconds. Pohl, on the other hand, had to fight properly. Starting in round 3, this was caught up in a "Danish sandwich", with Simonsen on his front and Svendsen on his rear wheel. And that was partly very narrow. None of them gave the other ones an inch, and this thrilling triple-header lasted for several rounds. Simonsen and Pohl could be seen gesticulating wildly at each other to show that they felt disadvantaged. The race paid out for Pohl. In round 8 he could finally pass Simsonsen, and the third podium place became clear. The finish line sequence: Borowski, Harder, Pohl, Simonsen und Ludwig.
Ranking 1st Race Templin of Class 3 Expert by Scooter-Attack:
Patrick Borowski 50 pts.
Marc Harder 40 pts.
Kevin Pohl 32 pts.
Text: V.i.S.d.P. Andre Schwarz
       (2. Vorsitzender EST e.V.)
Photos: Marcel Paulzen / m2medien.com