Race Report 2nd Leg of EST in Cheb
On May 26 & 27, the European Scooter Trophy community set up camp at the race track in Cheb (CZ). After the successful start to the season, everyone was looking forward to up the ante and crank it up for the second leg of the championship. Race registration gave evidence of the great interest, long line-ups in front of the race office indicated that the individual categories would see even more partcipants. In the end, the EST organizers were pleased – about 80 pilots in 6 classes. It turned out that Rookies was the most popular category. 31 pilots in Class 1 meant that the maximum admissible number of participants was almost reached; in Cheb, a total of 34 vehicles are allowed to compete in each race. The organisers have a solution if the trend continues, Class 1 will be divided into two classes so new and inexperienced riders are provided with optimum conditions for gaining their first experiences in racing.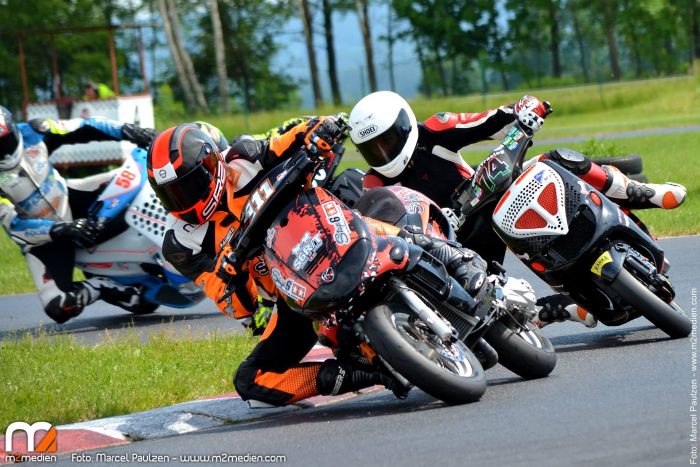 The Kids class celebrated its premiere at the EST this year. Inexperienced as well as very young riders get the opportunity to make their debut on the race track. Partcipants in this class can race independently from the rest of the field and don't have to be afraid when gathering their first racing experiences. Riders in the Kids category do not take part in the official races, but can gain training experience during the weekend and get advice from more experienced riders. The fee is 30€ plus day license, which is free for DMV/ACV members.
The new concept was embraced by fans and will also be part of all upcoming events.
After the Kids had completed their first laps on Saturday morning, it was time for free practice and qualifying. The conditions on the almost 1.2 km track were perfect. The following 2 qualifying sessions determined the starting positions for the races on Sunday.
The starting positions were as follows:
Class 1 – Rookies by Scooter-Attack:
#87 Stefan Durchner
#249 Denis D`Alessandro
#37 Maik Hering
#123 Nick Heckel
Class 2, 4 + 5 – SuperSport:
#13 Sascha Sperling
#40 Mirko Schröder
#81 Christian Hüser
#17 Philip Hasemann
Class 3 – Expert by Scooter-Attack:
#58 Marc Harder
#111 Kevin Pohl
#74 Attila Gaspar
#118 Patrick Borowski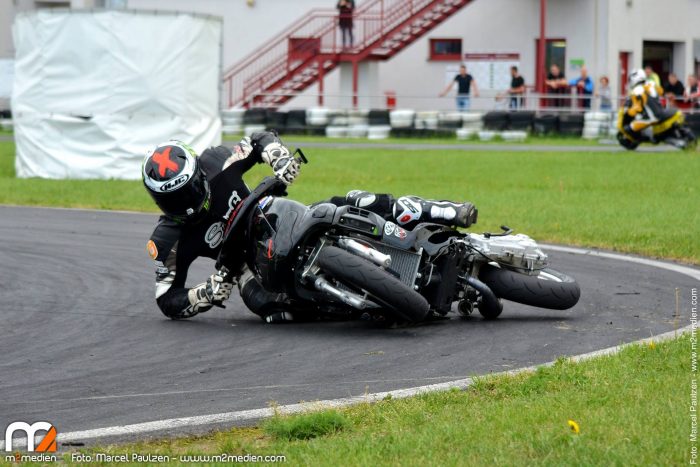 The riders' focus was on burning up the tarmac in for three hours. Very warm temperatures of 30 °C and more turned the race into a struggle for pilots and engines. First, B2plastics was ahead, followed by Pumba Racing, ABL Moto and HK 3, but the field was thoroughly rearranged really soon. Pumba Racing could not keep up with the speed of the other teams and had to give up their top position. GT Racing took first place at the start, but was relatively quickly replaced by B2plastic and dropped back to second place, followed by Team HK3. GT Racing seemed to be able to defend their second place until mid-race, but they crashed and had to go to the pits clearing the way for HK 3. B2plastics on pole was unimpressed by all of this and left their competitors behind. During the rest of the race, they left no room for anyone else in the lead position. B2plastics won with a total of 162 laps in 3 hours. HK 3 with 6 laps behind followed by GT Racing, who were not able to catch up. Too bad since the fastest lap time was done by GT Racing in round 147, evidence of what they're capable of.
Results Long Distance:   1. B2plastics       2. HK 3         3. GT Racing
Sunday Races:
Class 1: Rookies by Scooter-Attack
The first race kicked off with 31 starters. Despite intensive preparation, there was confusion on the grid as to who was starting from which position. One of the reasons was that half the field arrived much too late. This meant that the first thing to do was arrange riders and their bikes into their proper grid positions. After each rider found their position, the starting shot for the first race could finally go off. Durchner was ahead, with no competition from anybody else, which began to show in training the day before. Behind him, D`Alessandro and Hering were less fortunate. Both dropped back more and more. D`Alessandro finally had to drop out of the race with a technical defect at the start / finish line. This gave N. Heckel and C. Schmitt an opening to make it to second and third place. Behind them, T. Henn, who had started from position 22, made his way through the pack during the first half of the race. In the end he was even able to pass C. Schmitt before crossing the finish line. They were followed by M. Krei.
The starting grid of the second race was much more disciplined and organized. All pilots showed up in time so that there was no further delay. Durchner left no doubt being the odds-on favourite and won without serious competition. Behind him M. Krei was able to make it to second place. D`Alessandro was ill-starred in the second race as well and had to call it quits with a technical defect in lap 10. M. Hering benefitted from this and finished third. Schmitt was involved in a lot of fights for positions between 4th and 6th place, but finally managed to prevail, which secured him a place on the podium. J. Alles finished 5th.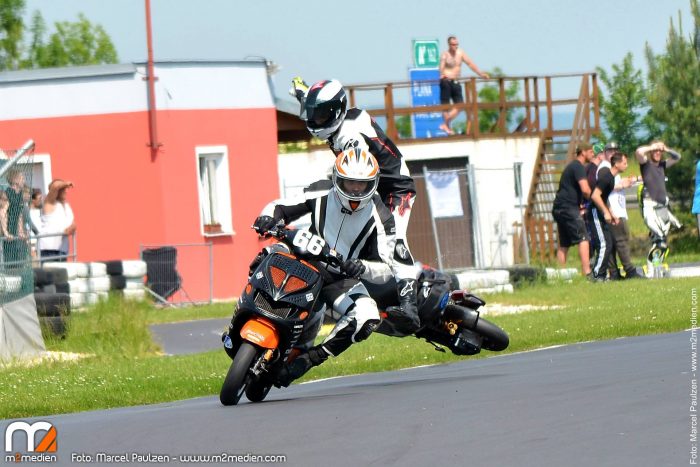 Overall Ranking Class 1 – Rookies by Scooter-Attack:
50 pts. Stefan Durchner
31 pts. Marco Krei
26 pts. Carsten Schmitt
Class 2 – Supersport; Class 4 Supramatic and Class 5 BigBore
The grid was pretty crowded for the second race as well. Sperling was on pole, with a pretty impressive pace this weekend and ready to challenge Schröder on place 2. But things took a different turn. Sperling had technical problems and could not make it out of the starting grid. All the other riders raced past him. Falkowski overlooked the non-moving Sperling and crashed. Fortunately he was able to continue the race after a short technical check-up. Sperling's bad luck improved Schröder's chances, and he took the lead with ease. He was followed by Hüser, who ran into problems, too, and had to get off his scooter with a technical defect only two laps before the start / finish line. Falkowski, who fought his way from last place to catch up with the leading field, benefitted from his dropping out. R. Richter finished as the happy third. Things did not go well for Hasemann, though. He struggled with technical problems all weekend which also caused his dropping out in the first race. Szöllösi and Kostrzewa finished 4th and 5th. In the Supramatic Class, Zehe prevailed over de Blasi and Gronow. Bickell was the only participant in the BigBore Class.
The second race became even more spectacular. Sperling was still visibly frustrated by the technical defect in race 1, but was aiming high for the second run. And this time things turned out much better. He was able to take the lead from the start and keep Schröder at a safe distance. Schröder tried to find an opening, but Sperling was the better rider. Behind him, Falkowski was able to slow and steady move ahead. The places on the podium seemed already set. But all of a sudden Zehe crashed and took Kreutzmann and Kostrzewa with him. The three pilots crashed into the gravel and gave the track barrier a good whacking. Fortunately there were no serious injuries. Kreutzmann was lucky and was able to continue the race. For the other two, it was game over. When the field passed the scene of the accident one lap later, Sperling suddenly slipped and crashed into the gravel bed as well. The scooter was totalled and Schröder finally had his chance. Sperling couldn't believe what just happened and was looking for an explanation. Oil spills or something similar was suspected from the stands, but there was nothing to be seen on the track. Race management decided to continue. This meant that the results were quite unexpected. Schröder secured two important victories for the championship, Falkowski finished second again and Freimüller third, followed by Szöllösi and Richter.
Overall Ranking Classe 2 – SuperSport:
50 pts. Mirko Schröder
40 pts. Chris Falkowski
27 pts. Rene Richter
Overall Ranking Class 4 – Supramatic
45 pts. Gianluca De Blasi
36 pts. Jan Gronow
25 pts. Henry Zehe
Overall Ranking Class 5 – BigBore:
Sven Bickell
20 pts. Piero Stefanutto
Class 7 – Pitbike
A total of 7 participants competed in the Pitbike Class. In both races Julian Dammert was able to put a good distance between himself and the rest of the field. The absence of regular riders like Quast, I. Arnaut or Schack was noticeable. Adanur could focus on finishing second, followed by Junuzovic. Behind them followed Lang and K. Arnaut.
Class 7 – PitBike:
#191                 Julian Dammert
#129                 Cüneyt Adanur
#41                 Mehmed Junuzovic
Class 3 – Expert by Scooter-Attack
When the participants of the Expert class got on the grid, people went quiet in Cheb. The tension before the first race was palpable. Qualifying made it clear that this championship would be a very close call. The 7 riders in the lead were really close, with a distance of less than 1 second on one another. Pohl on 1 and Harder on 2 were only 0:083 seconds apart. This meant that the teams were even more focused than usual before the start. When the race eventually started, Pohl was able to take the lead. Harder on two, Borowski on three, followed by Gaspar. The first four were right behind each other. Borowski challenged Harder on the inner track and briefly pulled into second place, but Harder immediately pressed for revenge and fought back. In round 5, Harder took his chance and passed Borowski and Pohl. But Borowski didn't just give up and was literally glued to Harder's rear wheel. After crossing the start/ finish line it finally worked out and Borowski raced to the top position. But Pohl also wanted in on the action. He was unfortunately blocked by Simonsen on the inner track, they collided and veered off into the tire stacks. Simonsen was more fortunate, but Pohl lost valuable time and Gaspar could now race up to third place. In the meantime, Svendsen and Sonne had a collision as well. Both were able to continue the race, but Sonne had to call it quits shortly before the end due to a technical defect. In the end Borowski won before Harder, Gaspar, Simonsen and Svendsen.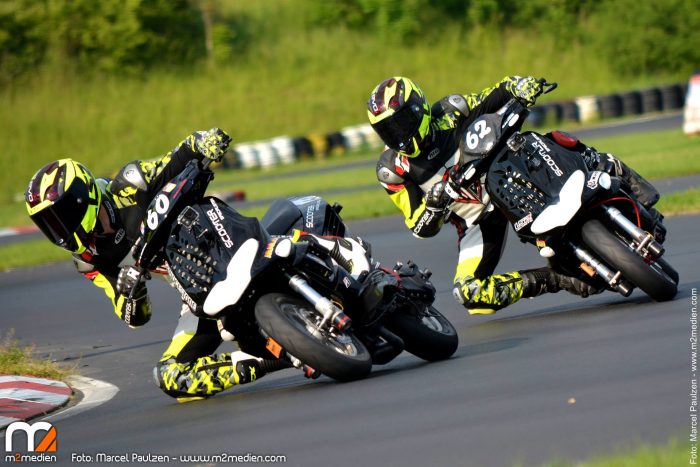 Things went much better for Pohl in the second race. Right from the start, he kept the lead against his pursuers. Harder put a lot of pressure on him from the start and did not let off. Borowski did not have a good start and had to fight his way through the pack. The visitors were curious whether Pohl would be able to keep the pace over the entire distance and whether Harder would find and use a chance to attack. It did not come to pass because Gaspar Harder passed at the end of the long straight. Borowski in fourth place was waiting for an opening. Shortly before the start / finish line Harder had to let Borowski and Svendsen pass.Then Borowski fought his way through the pack and became the rightful winner for the second time. Pohl finished second, followed by Harder, Gaspar and Dersch.
Overall Ranking Class 3 – Expert by Scooter-Attack:
50 pts. Patrick Borowski
33 pts. Marc Harder
32 pts. Attila Gaspar
Text: V.i.S.d.P. Andre Schwarz
       (2. Vorsitzender EST e.V.)
Photos: Marcel Paulzen / m2medien.com
English Translation: Bettina Thimmel